If your curling club doesn't have an email newsletter, it should.
This doesn't mean that you occasionally email the members of your club to let them know that registration is open or that snow has canceled that night's games. A good email newsletter does inform, but it also strengthens the connection between members and the club and turns your potential members into new curlers.
Social media is a great tool that allows for authentic communication between your club and the community, but email marketing is where you can turn casual followers into members. According to OptinMonster, 60% of consumers have made purchases as the result of a marketing email, compared to 12.5% on social media. In addition to this, curling clubs are already at an advantage because "hobbies" and "sports" have some of the highest open rates and click through rates across all industries.
It's easy to start including email as part of your curling club's marketing plan and use it to help grow your membership numbers.
1. Find an email marketing tool that will save you time and money
Some of you may already have a web-based tool that you use to contact your email database. However, some of you may be copying and pasting a list of emails from an Excel spreadsheet into the BCC field on your Gmail account to send those emails.
For those of you in the second category, there are plenty of options that will help you with database maintenance and email creation without costing you any money.
Mailchimp is the free email marketing tool most of us know and love, but it isn't the only game in town. Mailchimp allows you to have a list of up to 2,000 contacts and send up to 10,000 emails per month before you have to upgrade to a paid account. Also consider tools like Sender, whose free version allows for 2,500 contacts and 15,000 emails per month, or SendPulse, also 2,500 contacts and 15,000 emails per month.
There are countless options, most of which are user friendly and will save you time without having to dip into your broomstacking budget.
Want to get really sophisticated? Look into HubSpot. HubSpot is more of a customer relationship management tool, but its free version will still get the job done for marketing emails and help you keep track of your membership roster.
2. Make it as easy as possible for people to subscribe to your email list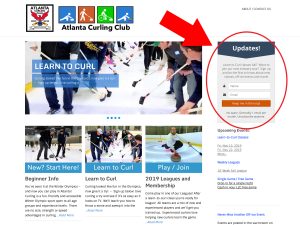 If you're going to take the time to create a newsletter and marketing emails, you might as well have subscribers to send it to, right? So don't relegate the sign-up form to your contact page or to the footer of your website. Make it easily accessible right on the front page.
Atlanta Curling Club's website is probably the best example I found. They put their sign-up form at the top of their front page in the right-hand column. They also have a clearly defined call-to-action: "Learn to Curl classes full?  Want to join our next brewery tour?  Sign up and be the first to know about new classes, off-ice events and more!"
The call-to-action is just as important as the location. Let them know exactly why they should subscribe and what they can expect. Again, Atlanta Curling Club knocks this out of the park: "No spam. Generally 1 email per month. Unsubscribe anytime." It's clear, it's concise and it only requires two fields: name and email address. That's all you really need for what you are trying to accomplish with your club's newsletter.
Keep in touch with the people who come to your events by adding them to your email list. Add a newsletter opt-in box to the form for online registration or add language to your waiver you have people sign on-site that says you want to contact them about future events and ask for their email address.
Finally, if your club is active on social media, don't forget to occasionally remind followers that they can sign up for your newsletter.
3. Segment your email lists
Even the free email marketing tools make it easy to create lists within your full email list, which is an important part of email marketing. List segmentation allows you to get the right message in front of the right audience at the right time.
At the very least, you should segment your emails between members and non-members. How you communicate with your current curlers should be different than the people on your list you are trying to convince to join your club.
Here's how a basic list segmentation hierarchy might look: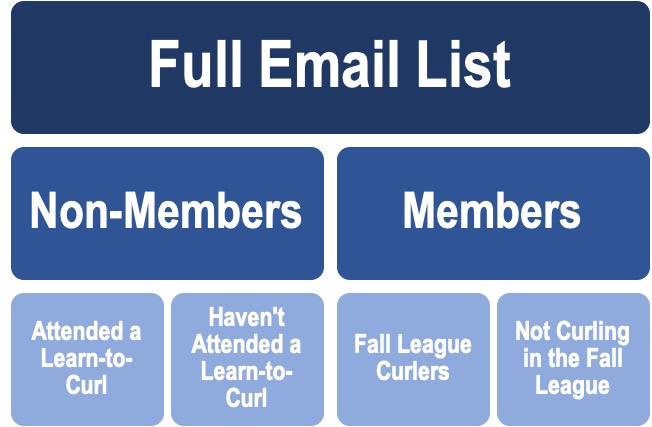 Use your segment hierarchy to guide your email marketing strategy. For instance, let's say you have a learn-to-curl coming up in two weeks. You might send three versions of same email but with the following calls to action:
Version 1 to members asking for volunteers
Version 2 to non-members who have attended a learn-to-curl asking if they'd like to invite a friend
Version 3 to non-members who haven't attended a learn-to-curl letting them know they can pay in advance to guarantee a spot
Spending just a little bit more time to create list segments and then tweak the subject line and call-to-action based on those segments can go a long way to increasing the open rate and click-thru rate of your club's emails.
Most curling clubs won't have to go beyond basic list segmentation. But if you have the time and energy, you can additionally segment lists based on geography, age, gender, birthday or level of interest (i.e. people on you list who might be interested in scheduling a private corporate event).
4. Use A/B testing to improve your subject lines
A/B testing refers to sending two variations of the same email campaign to a percentage of your recipients to determine which variation performs better.
A common form of A/B testing is sending the same email with two different subject lines to see which one results in a better open rate. Here are some examples:
Short or Long: "Curling is back!" vs. "Our Wednesday night curling league will begin Oct. 12"
Personal or Impersonal: Try using personalization tokens that will include a subscriber's first name in the subject line, "Ryan, don't forget to sign up for our spring curling league"
Emojis or No Emojis: "Registration is open for our mixed doubles minispiel" vs. "🥌🥌🥌 Registration is open for our mixed doubles minispiel"
You can use A/B testing to see what resonates with your subscribers. After all, what works for one email list won't necessarily work for yours. Even the most seasoned marketing pros are split on whether or not putting emojis in the subject line works.
One thing I would suggest trying is something similar to what my home club, Curling Club of Virginia, does in emails. They add "[CCVA]" to the beginning of their subject lines, i.e. "[CCVA] No fall curling this week!" It's simple, but it's something that's meant to catch the eye of people who are expecting emails from the club. Try it, it might help improve your open rate.
5. Keep in touch, even if you don't have any announcements
The purpose of your newsletter shouldn't just be to keep members updated on when registration is open or that you need volunteers for an open house. It should also be used to keep curling fresh on the minds of the people on your list, especially those who might be on the cusp of joining your league.
That's why it's just as important to make sure they don't go three months without hearing from you as it is to not inundate their inbox with an email every other day. Send at least one email per month, even if it's something as simple as sharing a curling news story, a list of upcoming bonspiels in your area or <BLATANT AND UNNECESSARY PLUG> the latest Rocks Across the Pond podcast episode </BLATANT AND UNNECESSARY PLUG> to your subscribers. If members of your club had fun at a recent bonspiel, share those results and photos to try to create the fear of missing out that might get someone out to try curling.
Email marketing is about creating meaningful touch points that will both keep your current club members engaged and turn your subscribers into new members. This sounds impersonal, but think of your curling club as having a sales funnel.
Your goal is to get people aware of your club (especially in non-traditional markets), get them interested in trying curling, get them to your website or social media accounts, get them signed up for a learn to curl, turn them into a dues-paying member and then hopefully into an engaged member who is a "raving fan" that volunteers at the club and tells their friends how amazing curling is.
Your email marketing can play a part in this by making your current members and your future members feel connected to the club and the sport of curling. And fortunately for all of us, the curling club "sales funnel" involves having a lot more fun than selling widgets.
Additional resources
I hope some of this information helped. If you're already a savvy marketer, you probably already knew everything above. But if you're new to email marketing and looking for a way to help turn your learn-to-curlers into members, hopefully this is useful. If you're looking for more resources on email marketing, I recommend reading Sprout Social, HubSpot and OptinMonster.
---
Ryan is a marketing professional and a member of Curling Club of Virginia. He spent 12 years in marketing and media relations in sports and live events, including time with a Major League Baseball club. Has your curling club had success using email marketing to grow its membership? Tell us at rocksacrossthepond@gmail.com.
How healthy is the sales funnel for your curling club?
How your curling club can get more organic traffic
Email Rocks Across the Pond
Like us on Facebook
Follow us on Twitter